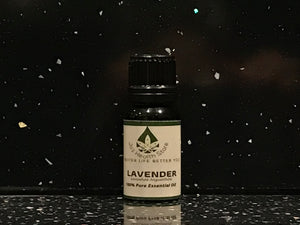 Lavender essential oil has showed that it is useful in reducing stress and anxiety by promoting the feeling of relaxation which supports and increases cognitive brain function. This product can also be used to treat insomnia and promote deep sleep through relaxation. When applied to the skin, this can be used to help heal minor burns, cuts and irritations caused by insect bites due to its anti-inflammatory and antiseptic properties. It can also be used as an insect repellent, treat acne and hair loss, soothes and revitalises the skin and relieve muscle joint soreness.
Not only is Lavender oil effective for freshening and purifying the air, it also helps battle respiratory tract infections, boost digestive health and the immune system, promotes healthy respiratory system, supports a healthy nervous system and improve blood circulation. 
Risks: Lavender Oil may cause skin irritation or allergic reactions in certain individuals, as well as nausea and headaches. If you experience these symptoms discontinue use.
Do not ingest and always do a patch test