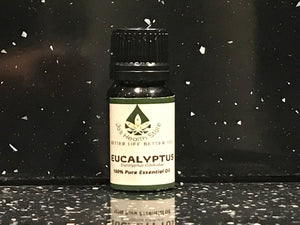 Eucalyptus essential oil has many health benefits such as increasing brain function, helping to reduce stress and anxiety, reducing muscle soreness and relaxing tired muscles. It also helps regulate blood sugar level and also improves the immune system helping it fight infections and seasonal allergies. Its antimicrobial properties also help to fight bacterial, viruses and fungi.
Eucalyptus oil is an effective treatment against dental cavities, blood pressure levels and respiratory problems such as nasal congestion, bronchitis, sinusitis and aids asthmatic symptoms. 
As this product is an anti-oxidant and is also anti-inflammatory, it helps in reducing swelling, arthritis and joint pains. It is also great as a treatment for head lice and skin infections. 
Risks: Should not be applied directly to the skin, and is not recommended for children under 12 as it is likely for them to suffer serious side effects. If allergic to tea tree oil, we recommend staying away from this product as they contain many of the same compounds. Do not use up to two weeks before a scheduled surgery as it interferes with blood sugar levels.
Do not ingest and always do a patch test