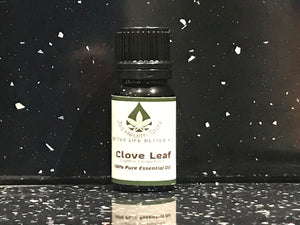 Clove Leaf - a warm, spicy yet sweet scent.
Clove Leaf essential oil is effective as a treatment for toothache and pains in other areas of the body as it contains Eugenol which has been long used by dentists as a local anaesthetic. This product can be put in a spray bottle and used to repel insects.
Clove oil is an antiviral and is therefore useful in treating viral infections of the skin. Taking a deep breath of clove oil can be effective in reducing headaches. Clove oil is also a warming oil and is therefore beneficial in improving circulation.
Risks: Do not ingest, Using clove oil can be a skin irritant so it is recommend to do a patch test, and to use this product in small amounts.