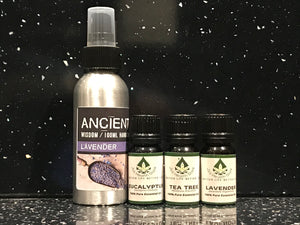 100ml Lavender Hand Spray
We are delighted to present you our aromatherapy spray made with 75% (Isopropyl) and our finest essential oils for added antiseptic protection. This is not a substitute for proper hand-washing, so make sure to wash your hands well at the next opportunity.
Eucalyptus essential Oil-has antiviral and antimicrobial properties and is used to treat the common cold. Inhaled or oral eucalyptus oil may safely fight viruses and respiratory problems. Eucalyptus is also used to create a cool compress for fevers.
Tea Tree-has been used as a traditional medicine by Aborigines for centuries, they crush tea tree leaves to extract the oil, which is then inhaled to treat coughs and colds or applied directly to the skin for healing.
Lavender-may help promote relaxation and help you fall asleep, studies show that adequate sleep may help prevent colds. Research shows people who sleep less than six hours a night have four times the risk of catching a cold than people who sleep seven hours a night or more.
All Essential Oils must be mixed with a carrier oil
Do not ingest
Our products are not suitable for those under the age of 18