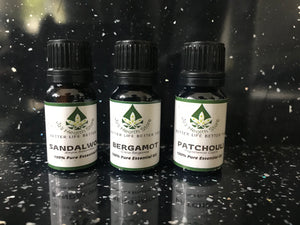 Sandalwood Oil-moisturises and tones giving a healthy looking smooth skin and complexion. Sandalwood Essential Oil should be included as a regular part of your skincare routine.  Due to its antiseptic and anti-inflammatory products, it can be used on minor cuts, burns and bites.
Bergamot Oil-has been used for years to reduce feelings of stress and to soothe and rejuvenate the skin. It is also purifying and cleansing for the skin while having a calming effect.
Patchouli Oil-Patchouli is beneficial to the skin in many ways. It is often used topically to help reduce the appearance of wrinkles, blemishes, and minor skin imperfections and to promote a smooth, glowing complexion.