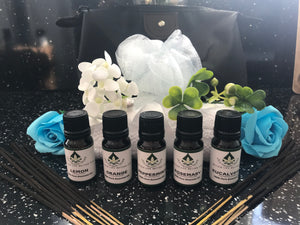 Energising Oils to kick-start your day
Are you finding morning's difficult for you, if so you will benefit from adding essential oils into your morning routine to boost up your day. So try some of our best essential oils for waking you up and preparing you for the day.
The Lemon in this energising package will help to promote concentration and a significant boost to the immune system. The Peppermint Oil has shown significant improvements on memory and alertness. With the Rosemary Oil it has been shown to increase blood flow to the brain.  Orange Essential Oil's has a pleasant scent which is cheerful and uplifting. It can create a warm environment but can also stimulate the strength and resilience of the immune system and eliminate airborne bacteria. Finally the Eucalyptus Oil stimulates the brain and improves energy.
Do not digest and do not use directly onto skin use with a carrier like Coconut Oil, Olive Oil, Grapeseed Oil Etc
Gift Package Description: 5 Essential Oils, Toiletry Bag, Flannel, Body Scrub, Three Soap flowers (colour and type of flowers may vary), Nag Champa hand-Rolled Coated incense on Bambo sticks.