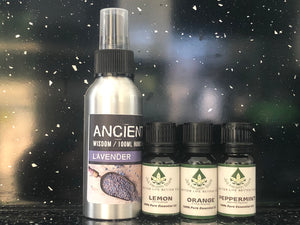 100ml Lavender Hand Spray 75% Isopropyl
We are delighted to present you our aromatherapy sprays made with 75% alcohol (Isopropyl) and our finest essential oils for added antiseptic protection. This is not a substitute for proper hand-washing, so make sure to wash your hands well at the next opportunity.
Lemon Essential Oil - has antibacterial, antioxidant and anti-Inflammatory properties, may helps to boost immune system and may help with respiratory conditions. Can be used with a carrier oil or a few drops inhaling on tissue or in a diffuser.
Orange Essential Oil - has antimicrobial activities (disinfectant, germicide) destroys microorganisms that might carry diseases. Can also be used as a household cleaner it adds a pleasant scent to a room.
Peppermint Essential Oil - use as a topical rub as the menthol helps to relive congestion
All Essential Oils must be mixed with a carrier oil
Do not ingest
Our products are not suitable for those under the age of 18