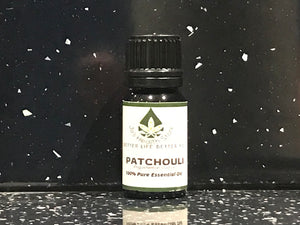 Patchouli Oil is described as having a woody, sweet and spicy scent. It is often used in aromatherapy because of its' antidepressant properties, as well as being an anti-inflammatory meaning that it treats a wide range of skin conditions such as eczema and dermatitis.
This product also has astringent properties making it useful for the skin as it can be used as an anti ageing substance.It is good at regenerating new skin cells, keeping the skin looking healthy and vibrant.  It is also effective in reducing the appearance of scars. It also helps prevent the early onset of sagging skin and hair loss.
Furthermore, this musky aroma masks body odour and remains very popular in many colognes and perfumes. It blends well with our Bergamot Oil, Clary Sage Oil and Lavender Oil.
Risks: Do not apply undiluted oil directly onto the skin, and avoid using this product if you are taking blood thinners, have a bleeding disorder, or recovering from major surgery.