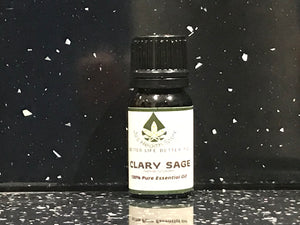 Clary Sage can be used to reduce inflammation, spots and rashes on the skin which also regulating oil on the skin.It also works well in regulating normal menstrual cycles by balancing hormone levels. Clary Sage is antispasmodic which simply means it can be used to treat headaches, muscle cramps and stomach aches, making it a great treatment for relieving menstrual cramps. 
This product also decreases emotional stress, serves as an antidepressant and feelings of anxiety while also providing relief from insomnia.
This oil has antioxidant and anti-inflammatory properties which are beneficial in reducing cholesterol and support the cardiovascular system. Due to its antiseptic properties, this oil can be used to prevent minor infections as well as stunting the growth of bacteria due to its antibacterial properties.
Risks: This product may not be suitable for those with low blood pressure.
Do not ingest and always do a patch test